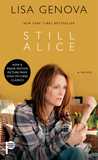 Still Alice
by
Lisa Genova
My rating:
4 of 5 stars
Judul: Still Alice
Penulis: Lisa Genova
Penerbit: Pocket Books
Halaman: 388 halaman
Terbitan: Desember 2014
Alice Howland is proud of the life she worked so hard to build. At fifty years old, she's a cognitive psychology professor at Harvard and a world-renowned expert in linguistics with a successful husband and three grown children. When she becomes increasingly disoriented and forgetful, a tragic diagnosis changes her life--and her relationship with her family and the world--forever.
At once beautiful and terrifying, Still Alice is a moving and vivid depiction of life with early-onset Alzheimer's disease that is as compelling as A Beautiful Mind and as unforgettable as Judith Guest's Ordinary People.
Review
"Still Alice" bercerita tentang Alice Howland, seorang profesor di bidang psikologi-kognitif di Universitas Harvard, yang didiagnosis dengan Alzheimer dini. Penyakit ini mulai membuatnya sering melupakan berbagai hal. Mulai dari materi-materi pelajarannya, jalan, hingga cara memakai baju. Penyakit ini juga membawa perubahan yang hebat bagi Alice, suaminya, dan ketiga anaknya.
Mungkin "Still Alice" ini bisa digolongkan ke dalam "sick-lit". Dan selayaknya "sick-lit", akhirnya tidak akan bahagia. Dalam artian, penyakit Alice tidak akan sembuh secara ajaib pada akhir buku. Saya rasa ini bukan
spoiler
, karena sampai hari ini pun, belum ditemukan obat yang dapat menyembuhkan Alzheimer.
Sejujurnya, saat membaca dengan pengetahuan bahwa di akhir buku Alice tidak akan sembuh justru membuat saya lebih bisa menangkap emosi Alice. Sama seperti Alice yang sadar bahwa penyakitnya tidak akan berakhir dengan kesembuhan, setiap pengalaman dan perjuangan Alice menjadi sangat bermakna.
She remembered being six or seven and crying over the fates of the butterflies in her yard after learning that they lived for only a few days. Her mother had comforted her and told her not to be sad for the butterflies, that just because their lives were short didn't mean they were tragic. Watching them flying in the warm sun among the daisies in their garden, her mother had said to her, See, they have a beautiful life. Alice liked remembering that. (hal. 128-129)
Saya merekomendasikan "Still Alice" untuk yang mencari bacaan tentang keluarga dan perjuangan individu dalam melawan suatu penyakit. Juga untuk orang yang mencari bacaan tentang Alzheimer.
"My yesterdays are disappearing, and my tomorrows are uncertain, so what do I live for? I live for each day. I live in the moment." -Alice (hal. 293)
Buku ini untuk tantangan baca:
-
2015 New Authors Reading Challenge
-
2015 Lucky No. 15 Reading Challenge
View all my reviews