Selamat hari Rabu semuanya! Ketemu lagi di Wishful Wednesday, tempat curhat buku yang sedang diidam-idamkan :)).
Untuk WW kali ini, buku pilihan saya adalah: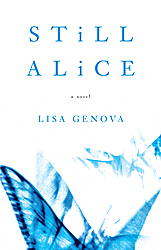 Still Alice
by: Lisa Genova
Dari Goodreads:
Alice Howland is proud of the life she worked so hard to build. At fifty years old, she's a cognitive psychology professor at Harvard and a world-renowned expert in linguistics with a successful husband and three grown children. When she becomes increasingly disoriented and forgetful, a tragic diagnosis changes her life--and her relationship with her family and the world--forever.
At once beautiful and terrifying, Still Alice is a moving and vivid depiction of life with early-onset Alzheimer's disease that is as compelling as A Beautiful Mind and as unforgettable as Judith Guest's Ordinary People.
---
Yup, "Still Alice". Novel yang mengangkat tema Alzheimer dan sudah difilmkan pada 2014. Julianne Moore memperoleh banyak penghargaan untuk perannya sebagai Alice. Academy Award untuk kategori Best Actress adalah salah satu piala yang berhasil Moore sabet. Selain itu ada Kristen Stewart juga di film ini. Aktingnya sebagai Lydia, anak bungsu Alice, juga memperoleh kritik yang bagus.
Poster film "Still Alice"
Bukunya sendiri katanya akan diterjemahkan oleh Penerbit Erlangga, tapi kayaknya belum ada kabar lagi soal hal itu.
Itu dia WW saya kali ini. Buku apa yang masuk di
wishlist
-mu?