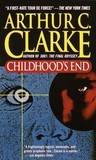 Childhood's End
by
Arthur C. Clarke
My rating:
3 of 5 stars
Judul: Childhood's End
Penulis: Arthur C. Clarke
Penerbit: Del Ray
Halaman: 224 halaman
Terbitan: May 1987
Without warning, giant silver ships from deep space appear in the skies above every major city on Earth. Manned by the Overlords, in fifty years, they eliminate ignorance, disease, and poverty. Then this golden age ends--and then the age of Mankind begins....
Review

Spoiler alert!
"Childhood's End" bercerita tentang kedatangan para Overlord, makhluk dari luar angkasa. Mereka datang ke bumi dengan kapal luar angkasa dan teknologi yang belum pernah ada sebelumnya. Tujuan mereka hanya satu: memajukan manusia ke tingkat evolusi berikutnya.
Cerita dalam novel ini dibagi ke dalam tiga bagian:
1. era kedatangan awal para Overlord. Masa ini diwarnai dengan usaha pembangkangan manusia dari para Overlord yang berusaha membawa kesejahteraan bagi manusia.
2. era keemasan. Masa ini terjadi sekitar 50 tahun setelah kedatangan awal. Di masa ini manusia telah menerima para Overlord sebagai pengatur hukum dan kehidupan mereka.
3. era akhir. Masa ketika manusia mulai memasuki tahap evolusi yang berikutnya.
Seperti biasa, novel ini mengalami "penyakit" yang serupa dengan novel fiksi ilmiah pada umumnya: kuat di ide, nyaris tidak ada plot. Jangan harap ada aksi tembak-tembakan atau adegan berkelahi di sini, karena kamu tidak akan menemukannya. Paling ada sedikit aksi spionase di bagian pertama ceritanya, tapi tidak memacu adrenalin seperti di film-film laga.
"Childhood's End" bisa dibilang merupakan upaya penulisnya untuk menunjukkan betapa kecil sebenarnya manusia. Ada sesuatu yang jauh lebih besar di luar kita, di luar angkasa sana. Arthur C. Clarke berusaha menunjukkan ilmu pengetahuan sebagai pengganti agama. Karellen, salah satu Overlord, berkata, "They know that we represent reason and science, and however confident they may be in their beliefs, they fear that we will overthrow their gods. Not necessarily through any deliberate act, but in subtler fashion. Science can destroy religion by ignoring it as well as by disproving its tenets."
Tapi kemudian seluruh hal ini menjadi tidak begitu pasti, karena para Overlord sendiri mengakui bahwa mereka hanyalah alat dan ada sesuatu lagi yang lebih besar yang menguasai mereka. Mereka menyebutnya sebagai 'Overmind'. Yang sebenarnya terdengar seperti agama untukku.
Akhir ceritanya... sangat depresif. Ada juga yang bilang kalau akhirnya indah.
Yah, kalau bentuk evolusi manusia selanjutnya, zombie yang bisa mengendalikan rotasi planet, bisa dibilang indah.
[Yah, kalau bentuk evolusi manusia selanjutnya, zombie yang bisa mengendalikan rotasi planet, bisa dibilang indah. (hide spoiler)]
Buku ini untuk tantangan baca:
-
2015 New Authors Reading Challenge
View all my reviews