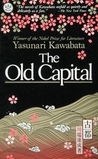 The Old Capital
by
Yasunari Kawabata
My rating:
2 of 5 stars
Judul: The Old Capital
Penulis: Yasunari Kawabata
Penerbit: Tuttle
Halaman: 164 halaman
Terbitan: 1998
Whether this subtle and brooding novel deserves to rank alongside Snow Country and Thousand Cranes as one of Kawabata's major works is debatable, but it contains all the Nobel laureate's most striking characteristics - acute esthetic sensibility, preoccupation with the clash between old and new, pervasive melancholy and a story line suggestive of a Zen brush-and-ink painting where what is omitted is as important as what is included. Set in Kyoto, the Japanese city most symbolic of tradition, the story centers on a young woman, Chieko, who having been brought up to think her parents stole her as a baby in a fit of passionate desire is profoundly disturbed to learn (after a chance encounter with a girl who turns out to be her sister) that her real parents had abandoned her. Her identity crisis is exacerbated by her need to choose between carrying on her adoptive father's kimono-designing business, now in decay, and leaving home to marry. It's an intensely poetic story in which much is evoked, little stated or concluded.
Review
Saya menyalahkan 2 bintang kali ini pada terjemahannya dan ketidakmampuan pribadi untuk membaca dalam bahasa Jepang. Membaca terjemahan bahasa Inggris "The Old Capital" ini membuat saya merasa ada sesuatu yang hilang. Mungkin ada sesuatu yang lain yang hanya bisa ditangkap kalau mengerti tentang budaya Jepang dan bahasanya.
"The Old Capital" bercerita tentang Chieko, seorang gadis yang diadopsi oleh suami-istri pedagang kimono. Suatu hari, pada sebuah festival, Chieko bertemu dengan seseorang yang sangat mirip dengannya, seorang gadis bernama Naeko yang ternyata adalah saudari kembarnya. Dunia Chieko pun mulai berubah sejak pertemuan itu.
Ada banyak simbol di dalam novel ini. Mulai dari kehidupan Chieko dan saudari kembarnya, Naeko, hingga ke jangkrik di dalam guci. Semuanya bicara tentang perubahan, khususnya tentang Jepang yang bergeser dari tradisional ke modern, serta ilusi dalam hidup.
"The time never comes when a beautiful illusion turns ugly." (hal. 155)
Untuk ceritanya sendiri, saya cukup menikmati. Saya suka melihat kontras antara hidup Chieko dan Naeko, serta permainan nasib yang menimpa mereka. Saya juga suka dengan interaksi Chieko dan Shin'ichi. Sayangnya, novel ini kurang panjang. Akhir ceritanya gantung banget. Coba lebih dipanjangin lagi :'). Tapi, yah, mungkin novel ini memang tidak bertujuan untuk memperlihatkan seluruh kehidupan Chieko.
Novel ini saya rekomendasikan untuk yang suka membaca novel dengan simbolisme yang kuat, atau yang suka pada literatur Jepang klasik.
Buku ini untuk tantangan baca:
-
2015 Lucky No. 15 Reading Challenge
View all my reviews